BOOK REVIEW: You Have A Brain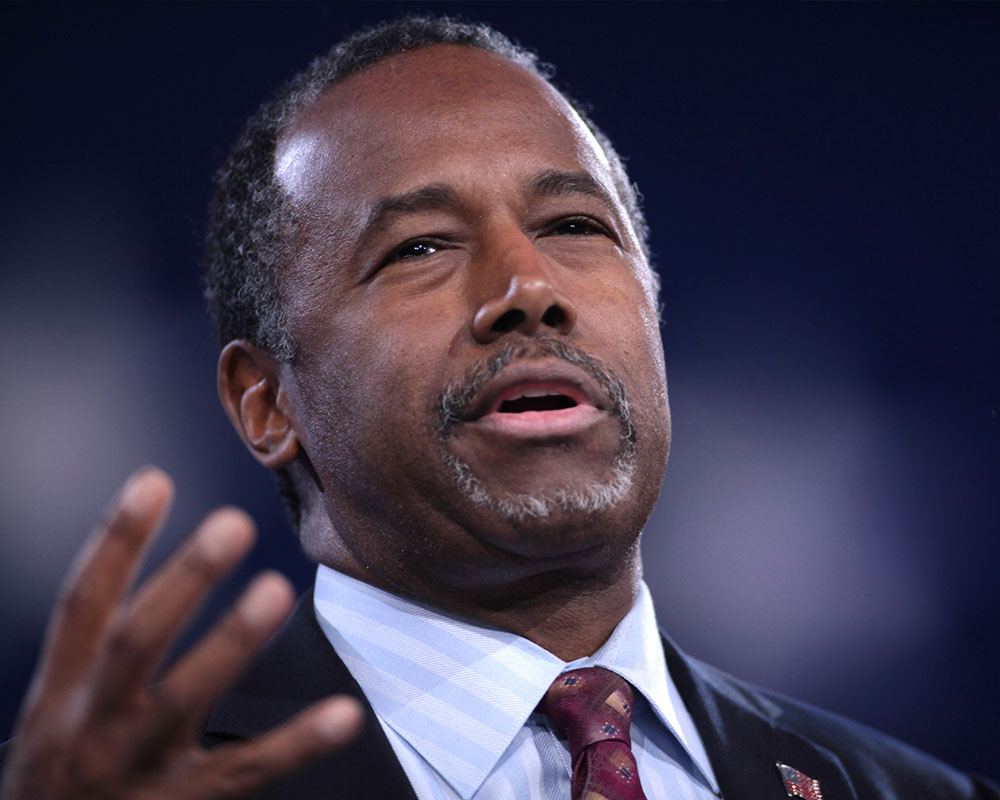 Book Review: You Have A Brain
Ben Carson narrates his story of how he moved from a dummy to a brilliant student through reading. His mother was his first mentor and cultivated in her children the love of reading at least 2 books a week and reducing the amount of time spent watching Television. His mum taught him about making choices and their consequences and the fact that the he had a brain that should be utilized effectively.
Ben Carson credited his mother as the simple most important human influence on his life. He further states that he loved the fact that she made great financial decisions even with the little education she got which showed her children a process of growth that could never really be taught.
"She was my greatest inspiration and provided the foundation for everything I've accomplished during my life. She shaped the heart of who I am and taught me eternal truths by demonstrating exceptional character."

Ben Carson

The book "You have a brain" also details how he deals with important attitudes like his temper, pride, competition, peer pressure at his young age by thinking with his head and turning to God for help. The adage "Knowledge is power" is thoroughly emphasized here and Ben Carsons journey of how reading changed his life and peoples perspective about him is seen all too clearly. The book emphasizes the importance of someone believing in you.
"Teachers sometimes do not understand the important role they play in their students life and how much impart they can have."

Ben Carson
THINK BIG is an acronym for Talent, Honesty, Insight, Nice, Knowledge, Books, In depth Learning and God.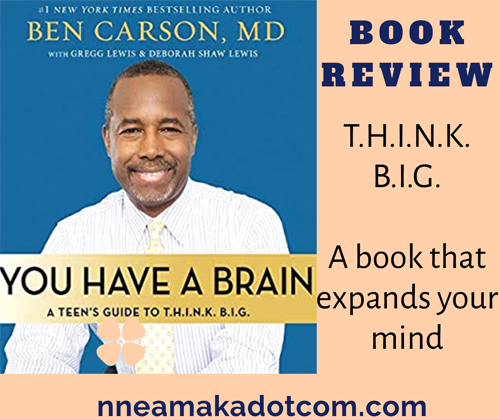 T – Talent
"Talent as a combination of somethings – a range of giftings that include innate and learned skills, interests, character and personality traits, intelligence, and acquired knowledge" rather than "something that you can do better than other people".

Ben Carson
He also emphasized that TIME as an important part of the THINK BIG concept as it takes years to know yourself well enough to make a confident choice and develop your talents.
H – Honesty
Important quotes from "You Have A Brain" Book on honesty;
"There is such a thing as right and wrong and when you do what is right, based on the principles you believe in, the satisfaction that results is better than having money."
"As a personal goal or standard for character, the definition of honesty covers a lot of territory for most of us. Certainly, it means telling the truth. But it also means treating others fairly; choosing to do the right thing; admitting and taking responsibility when you do wrong and demonstrating integrity."
I – Insight
This is the ability to learn from observing and experiencing life and to use that acquired knowledge to discern truth principles, and lessons you can apply to future relationships, situations and decisions – thereby gaining wisdom.

Ben Carson
N – Nice
Below are few steps in being nice;
Take yourself out of the equation.
Try to look at the other person's point of view.
Just listen.
Put aside personal preferences
Learn to love people
Do unto others as you would have them do to you.
K – Knowledge
In Proverbs and Ecclesiastes King Solomon talked about gold, silver and rubies being nice but that knowledge, wisdom and understanding should be treasured far above all those things (Proverbs 16:16)

The Bible
B – Books
Reading remains one of the simplest, best, and most basic means of assessing knowledge and acquiring the freedom and power that comes with it.
I – In depth Learning
It could also stand for initiative.
"Learning at a deep level is for the sake of knowing and understanding much more than the simple facts of a subject. Answering and asking not only the obvious What question, but the Who, Why, When and How questions as well."

Ben Carson
G – God
Ben Carson states that God is the greatest single influence in his life.
"I finally realize that God's first concern is not about whether we abide by his rules or deserve his grace and forgiveness. His priority is right relationships, this personal relationship is all God has wanted from us since the beginning of time. It is what we were created to for."
"God is central to my THINK BIG philosophy. He is the source of all the TALENTS within us – and the revealer of talents if we ask him. He defines not just HONESTY, but also right and wrong. God offers us INSIGHT, wisdom, and truth, but he has also given us brains with huge frontal lobes so we can process, analyze, understand and apply it.

God's golden rule pretty well sums up what it means to be NICE and Jesus had much to say about how we should treat others. God, the omniscient one, is the ultimate source of all KNOWLEDGE. And he's glad to help when we turn to him for wisdom to use it. He is also the author of the bestselling BOOK of all time.

More people have read the Bible and relied on it than any other book in history. Its timeless truths have never become outdated or irrelevant. Who else but an infinite God could help us discover and use IN DEPTH LEARNING?"

BEN CARSON
In conclusion, he states that "GOD has given us everything we need to think big. He is what ties it all together. So the better we know the one who designed our brains, the bigger and better we'll be able to think. Because we cannot ever think bigger than GOD."
You Have A Brain is written by Ben Carson, with Gregg Lewis and Deborah Shaw Lewis. Feel free to drop your comments on the book and do try to read the book too!!!
Comments
Section
Let's know what you think
0 Comments