ARISE, O COMPATRIOTS, Nigeria's Call Obey!!!
Arise, O Compatriots, Nigeria's Call Obey!!!
As a growing child in primary school, we always recited the national anthem on the assembly ground every morning with such hope, pride and determination that we would help better our country Nigeria. Not knowing the wordings of the National Anthem was an abomination and you could be shamed publicly for this. My social studies teacher hammered it into our heads to not just recite it but to understand the in depth meaning of the words in the anthem and live by them.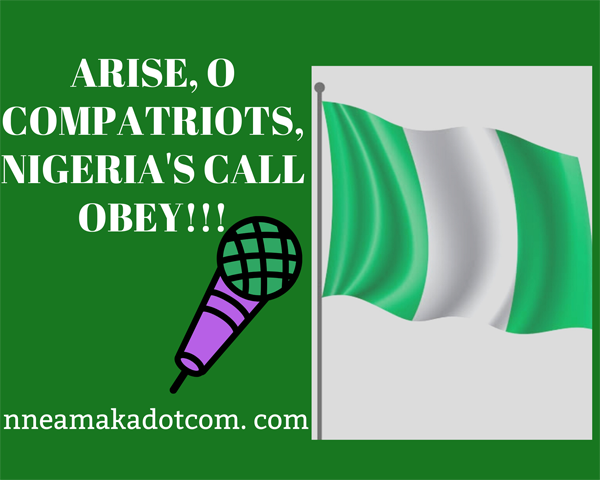 The older I got as a Nigerian the less i believed in the words especially by looking at the way politics was structured in Nigeria. Another thing that discouraged me was the way people talked about Nigeria "this and that can never work in Nigeria", "Nigeria cannot be better" and so much more. Given the way we pray in Nigeria both Christians and Muslims; Nigeria should be better than it presently is.
As a country we have experienced a lot of trying moments from gas flaring, inter-tribal rivalry, class discrimination and religious differences; but through it all we have stood as one. The Covid 19 pandemic is here and would either make Nigeria stronger or tear the remaining threads holding our country together.
Covid 19
Covid 19 is a worldwide pandemic affecting every country in different dimensions. As Nigerians its time for us to band together and fight for the lives of the citizen of our great country. At the onset of the Covid 19 pandemic all countries began to close their borders and all countries began to understand the importance of building your country. No matter how much an individual had, it became unimportant in fighting this pandemic.
A friend of mine that went for the COVID 19 testing at her local government gave a sad account of a man that came with 3 children for the testing. The man in question was wearing a face mask but his children were not, on the insistence of the Local Government Authorities he had to buy for his children. One of his children though kept coughing and sneezing when they asked him why he came for the testing he confirms that his wife tested positive for Covid 19 and has been taking to the isolation center.
This story is so sad because the man was not thinking of others just in case his entire family was also infected but was too preoccupied with thoughts and emotions, the only way we can curb this pandemic is to look out for one another. In protecting ourselves, we protect others and save lives. Its a general notion that Nigerians are selfish; lets change the narrative today by doing the right thing.
The Pandemic called COVID 19 is here, the government have tried to do right by Nigerians by imposing a compulsory lockdown in some states to reduce the spread. As a country a lot of Nigerians were not ready for this, as most business system work on a daily income.
We should remember that this is an unprecedented situation and we are all dabbling in the dark trying to find solutions to a problem we are not sure of the solution. As the compulsory lock down will be lifted in May in order to reduce Hunger Virus we must take responsibility for our well being and that of our neighbors by observing set down rules that reduce the spread.
Regularly and thoroughly clean your hands with an alcohol based sanitizer or wash with soap and water.
Observe social distancing; maintain at least 3 feet distance between yourself and others.
Make sure you, or people around you follow good respiratory hygiene always.
Avoid touching your eyes, nose and mouth.
Avoid going to crowded places
Stay home and self isolate even with minor symptoms such as mild cough, headache, mild fever until you recover.
If you have a fever, cough or difficulty in breathing seek medical attention.
Keep up to date on the latest information from trusted sources.
As we adhere to this rules we are doing our part as Nigeria's to save lives. Stay safe and stay healthy.
Below is our National Anthem let's recite it meaningfully and try to do the right thing;

Arise, O compatriots
Nigeria's call obey
to serve our fatherland
with love and strength and faith.
The labour of our heroes past
shall never be in vain,
to serve with heart and might
one nation bound in freedom
Peace and unity.

First Stanza

O God of creation,
direct our noble cause
Guide our leaders right
Help our youth the truth to know
In love and honesty to grow
And living just and true
Great lofty heights attain
To build a nation where peace
And justice shall reign.

Second Stanza
Nigeria must be great again, we are not called the "Lion of Africa" for nothing, let us make Nigeria great again by joining our hands together to fight back this pandemic. We must put back all ethnic and religious bias as well as Class differences aside; if we must win this battle together.
I will love to here your view on this topic; drop your comments below so we learn from each other.
Comments
Section
Let's know what you think
2 Comments